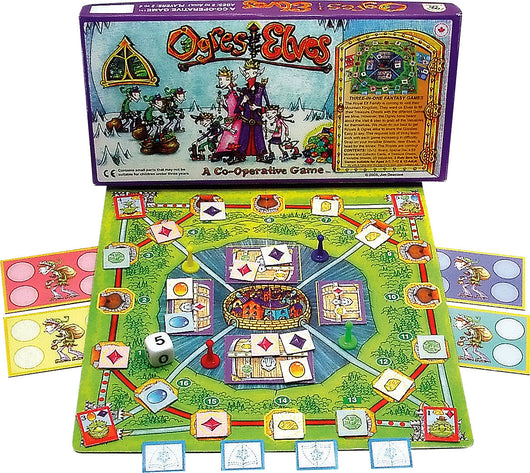 Ogres & Elves
Regular price $16.00 Sale
2 to 4 players, Ages 5 to 7, 7 to 12 and 12 to adult
The Royal Elf Family is coming to visit their Mountain Kingdom. They want us Elves to fill their Treasure Chests with the Gold & different Gems in these lands. However, Ogres have heard about the Visit and the Royals demands and fear they will be left with nothing! We must do our best to get Royals & Ogres alike to share the Goodies as we share the land.
Easy to say. This requires lots of tricky teamwork with each game increasing in difficulty. Strap on your Invisible Shields, dear Elves, & head for the Mines. The Royals are coming! Ogres and Elves don't always get along, and the Ogres don't trust the Royals to remember that they too need resources. The worker Elves do remember though, and will do the right thing!
Includes rules for 3 games, suitable for ages 5 to 7, 7 to 12 and 12 to adult.
Includes: 12 x 12″ board, special die, 4 elf movers and collector cards, 4 royal treasure chests, 3 sets of rules. © 2005