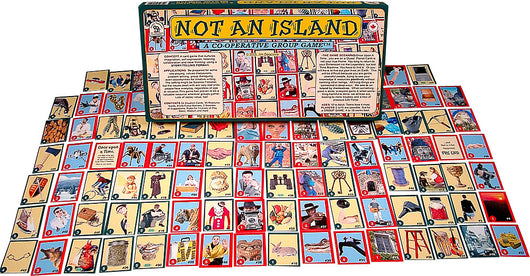 Not An Island
Regular price $12.00 Sale
4 to 15 players, Ages 10 to Adult
Once Upon a Time there was a Quest to find the Legendary but Lost Time Machine. We want to return to our Home Dimension. It is too hard on Earth trying to use our knowledge & resources positively. Earthlings just don't get it!
All living things are connected in very deep ways. No one is an Island by themselves. When something good is done, everyone gains & when something harmful is done, we all lose out, with more troubles & a loss of precious Life Force. This game thus nurtures imagination, listening, self-expression, collaboration & clear thinking, using a story-telling format.
The setting is Science Fictional, the issues everyday & real, tackled with role-playing, values discussions, dialoguing, problem solving as well as creative writing.
Adaptable to any group situation. Lots of replay value!
Includes: 55 situation cards, 55 resource cards, 6 life force markers, 2 booklets of scenarios, rules for basic, medium and hard levels of play. © 2003