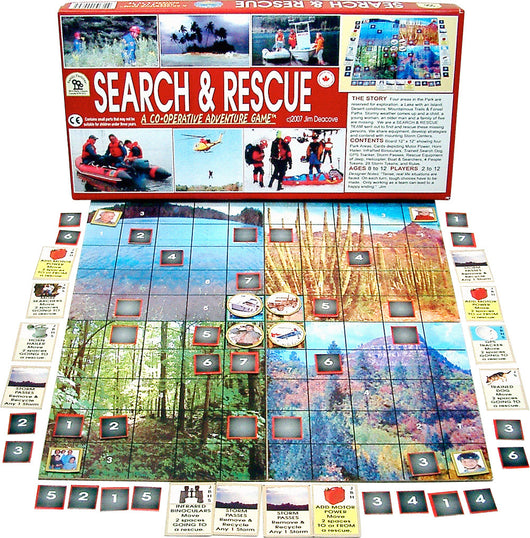 Search and Rescue
Regular price $12.00 Sale
2 to 12 Players, Ages 8 to Adult
Four areas in the Park are reserved for exploration: A Lake with an Island, Desert conditions, Mountainous Trails and Forest Paths.
Stormy weather comes up and a child, a young woman, an older man and a family of five are missing. We are a Search & Rescue Team sent out to find and rescue these missing persons.
We share equipment, develop strategies and contend with mounting Storm Centers! Tense, real life situations are faced. On each turn, tough choices must be made. Only working as a team can lead to a happy ending.
Dedicated to the brave men and women who do Search & Rescue.
Includes: 12 x 12″ board showing four park areas, cards depicting motor power, horn hailer, infrared binoculars, trained search dog, GPS tracker, storm passes, rescue equipment of jeep, helicopter, boat & searchers, 4 people tokens, 28 storm tokens, rules. © 2007 Jim Deacove