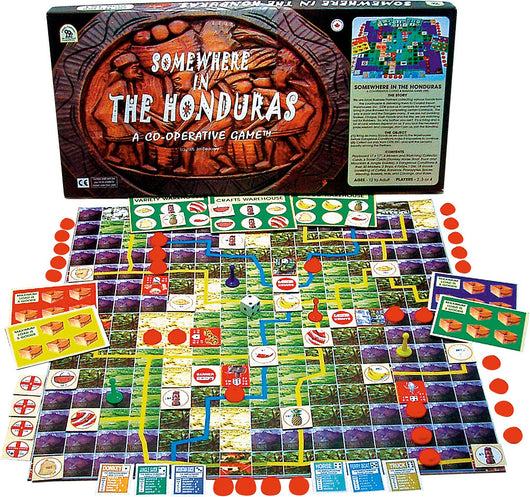 Somewhere In The Honduras
Regular price $19.00 Sale
2 to 4 players, Ages 12 to Adult

We are local Business Partners collecting Goods from the countryside & delivering them to Coastal Export Warehouses, Inc. CEW pays us for everything we bring in, plus Bonuses for completing certain Contracts.
The pay is poor and the Dangers many. If we are not avoiding Snakes, Chagas, Flash Floods and the like, we are watching out for Robbers.
So why bother, you ask? It's a living and a lot of rural workers depend on us to bring as many Goods as we can to the Warehouses before Dangerous Conditions make it impossible to continue.
If you lack the necessary pride, wisdom and courage, don't join us, join the Banditos.
Includes: 17 x 17″ board, 4 movers and matching collector cards, 6 travel cards (donkey, horse, boat, truck, and mountain & jungle guides), 6 dangerous conditions & their 30 markers, 3 stops, 4 fixups, 1 die, 18 goods consisting of coffee, bananas, pineapples, spices, weaving, baskets, hats, carvings and rules. © 2005